Gallery
Students
| University | Registered Students |
| --- | --- |
| Glyco-MEV Laboratories, University of Rouen, FRANCE « EFFECTS OF URBAN POLLUTION ON SKIN PHYSIOLOGY » | CHARLÈNE DELESTRE-DELACOUR |
| National Institutes of Health, Bethesda, Maryland, USA « CARBAMYLATION OF PROTEINS, A MOLECULAR ASPECT OF SKIN AGEING » | LAETITIA GORISSE |
| Associated to the International PhD program ICA, University of Salzburg, AUSTRIA « A HUMANIZED MOUSE MODEL OF HUMAN SKIN TO STUDY CUTANEOUS T CELL RESPONSES IN VIVO » | MARIA MAGDALENA KLICZNIK |
| CIRB, Collège De France, Paris CNRS/UMR 7241 – INSERM U1050 « PAPILLARY AND RETICULAR FIBROBLASTS DIFFERENTIALLY REGULATE ANGIOGENESIS IN VITRO » | ADÈLE MAUROUX |
| ED BMIC – CNRS UMR 5305 LBTI, Lyon, FRANCE « SYNDECAN-1 DRIVES MMP-9 EXPRESSION DURING KERATINOCYTE MIGRATION WITHIN PODOSOME-LIKE STRUCTURES » | MARINE MONTMASSON |
| Imperial College London, Dr HIGGINS LAB, UK « HUMAN HAIR FOLLICLES PROMOTE SCAR REMODELLING » | MAGDALENA PLOTCZYK |
| WISB/University of Warwick, UK « A SALICYLIC ACID DERIVATIVE EXTENDS THE LIFESPAN OF CAENORHABDITIS ELEGANS BY ACTIVATING AUTOPHAGY AND THE MITOCHONDRIAL UNFOLDED PROTEIN RESPONSE » | MEHRNAZ SHAMALNASAB |
| Grillari Labs, AUSTRIA « ORGANOTYPIC HUMAN SKIN EQUIVALENTS – A NOVEL MODEL TO STUDY THE INFLUENCE OF AGING AND ENVIRONMENTAL CONTAMINATION ON SKIN DEVELOPMENT » | REGINA WEINMÜLLNER |
| PhD in Cellular & Molecular Biology, University of Claude Bernard, Lyon, FRANCE « GPRC5A, A NOVEL ACTOR WOUND HEALING MECHANOTRANSDUCTION » | CHOUA YA |
Lecturers
| | |
| --- | --- |
| UMR 8161, CNRS, France | Prof. Corinne ABBADIE |
| INSERM U1065, Nice, France | Dr Corine BERTOLOTTO |
| Institut Curie, Paris, France | Dr Cedric DELEVOYE |
| L'OREAL, Aulnay, France | Dr Charles EL RAWADI |
| Vienna University, Austria | Prof. Johannes GRILLARI |
| Kyoto University, Japan | Prof. Kenji KABASHIMA |
| Lund University, Sweden | Prof. Rolf LOOD |
| Lübeck University, Germany | Prof. Ralf LUDWIG |
| INSERM US8/CNRS, Lyon France | Dr Catherine MOALI |
| Federal Univ. Rio de Janeiro, Brazil | Prof. Stevens REHEN |
| Miami Miller School of Medicine, USA | Prof. Gil YOSIPOVITCH |
| Shanghai Skin Disease Hospital, China | Dr Chao YUAN |
Lauréats 2018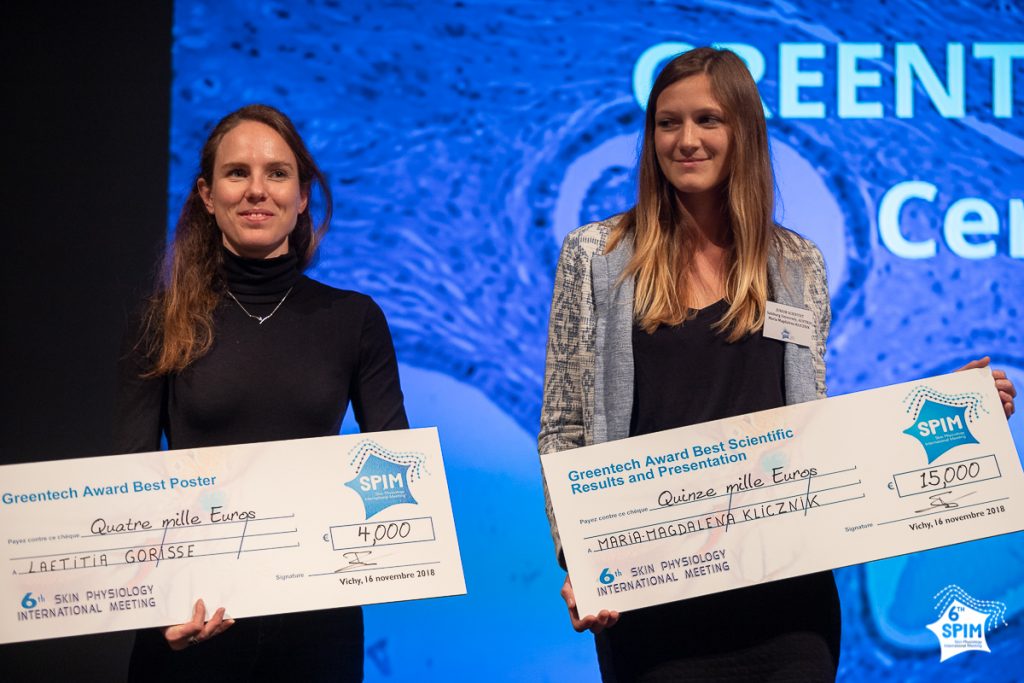 Laetitia GORISSE / Maria Magdalena KLICZNIK
Greentech Awards
The Scientific Committee selected the "Best Junior Scientist 2018" among the 9 young researchers (PhD or post-PhD) nominated and invited to present their results to Scientists and Industrials coming from the Dermatology and Cosmetic Worlds.
The Scientific Committee awarded a young and expert scientist for her outstanding work, Ms Maria Magdalena KLICZNIK, a PhD student working under the supervision of Dr Iris K. GRATZ, Group of Tissue and Immune Regulation, in the Department of Biosciences, associated to the international PhD program ICA at the University of Salzburg in Austria.
She received the grant of €15,000.
Her scientific project was :
A humanized mouse model of human skin to study cutaneous T cell responses in vivo
The aim of the project was to develop a humanized mouse model that allowed to study human cutaneous T cell responses in vivo. To do so, simplified human skin, consisting of keratinocytes and fibroblasts only, was generated on immunodeficinet mice and combined with human T cells. With this model T cell migration to the human skin and antigen-specific skin T cell responses against microbial antigen can be studied. Additionally, the human skin tissue itself supported T cell function in vivo. This model provides a platform to study the requirements of cutaneous immune responses in human skin in vivo.
Concerning the « Best SPIM Poster 2018 », Laetitia GORISSE's poster was selected by all participants and received the grant of €4,000. She is a PhD student in MEDyC (Matrice Extracellulaire et Dynamique Cellulaire), Reims, France and currently in postdoc at NIH (National Institutes of Health) in Bethesda, USA. Her Supervisor: Pr. Philippe Gillery.
Her topic was :
Carbamylation of proteins, a molecular aspect of skin ageing
This study describes carbamylation, a non-enzymatic post-translational modification of proteins, as a new intrinsic factor involved in skin ageing. Carbamylated proteins accumulate in dermal tissue over time in mammalian species. Matrix proteins are particularly sensitive to carbamylation since these long half-life proteins are poorly renewed. However, experiments showed that the organism is able to reduce the amount of carbamylated proteins after their formation in skin.
Topics
– APOPTOSIS versus SENESCENCE
– INTERCELLULAR COMMUNICATION
– MICROBIOTA
– SKIN & NEURO-SENSITIVITY
Entertainment
The first day was enriched with well-known lecturers from experts of skin physiology and young researchers participating in the Greentech Awards. After the last sessions of the day, all participants enjoyed the Exhibition of ERRO.
ERRO is an artist born in Olafsvik, Iceland in 1932. He enters the Fine Art of Reykjavik in September 1949 and graduates as an Art teacher on the Spring of 1951. ERRO is considered as one of the most important contemporary painters, he obtruded himself by his prolific work and through many Exhibitions and retrospectives all around the World.